CRISIS ATHENS: How austerity is destroying those who would compete with multinational power
the Slog
These pictures are of a main Athenian thoroughfare, Stadiou. Think 'Tottenham Court Road', and then imagine every kiosk, stall, shop and indoor precinct closed down, every small shop empty and impossible to rent, and the once-bustling pavements half empty.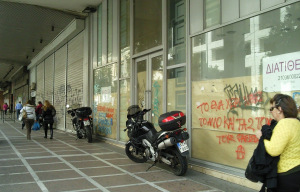 The Greek media that care run endless stories about starving children, lack of medication, old people dying because they cannot afford heating, and huge cuts in welfare relief.
These are all worthy topics for anyone still unclear about the catastrophic social effects of repayment-focused austerity in ClubMed. But if nobody buys in shops, eats in restaurants, sits in cafes or furnishes homes, businesses die in very short order.
In three short years, the banks of the world, the bureaucrats of the EU, and the Central Bank of Mario Draghi have wiped out Stadiou. Like the American South after the Civil War, it is a culture gone with the wind. All that remain are kids shooting up in the darkness of formerly thriving alleyways, and bill posters advertising things nobody has the money to buy.
Behind much of Athens' attraction as a tourist centre lies another layer of self-sustaining business: the wholesale trade. This above any other is small family business, where honesty, trust and quality are the basis of commerce. It too has been decimated, as both domestic and tourist consumption of goods plummeted after 2010.
Everywhere are grills, graffiti, parked scooters, litter, and locks. Nowhere is any business being done. An entire sector of the City's economy has been surgically removed. But nobody bothered to stitch up the open wound afterwards.
What you can see in Athens is the death of independent small business competition, the desecration of families that depended on it, and the reassuring certainty for the fat cats that in future, where once there was community liberty and self-reliance, there will before too long be imported global goods produced by multinational companies, cheap property ready to be torn down by developers, and the State enjoying control over a demoralised population totally dependent on it.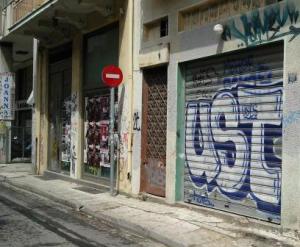 Some of the commercially naive bureaucrats and anthropologically ignorant political  'leaders' behind this policy represent yet more examples of what is wrong with European establishments throughout the continent. But for others – the Stateists, the neocon social engineers, the bourses, and the banks – all of this lost human energy is seen as the logical (and desirable) consequence of driving the Great Global God of Growth.
Read More : hat4uk.wordpress.com