Was Boston Bombers 'Uncle Ruslan' with the CIA?
http://www.madcowprod.com
The uncle of the two men who set off bombs at the Boston Marathon, who struck the only grace note in an otherwise horrific week, worked as a "consultant" for the Agency for International Development (USAID) a U.S. Government Agency often used for cover by agents of the CIA, in the former Soviet Republic of Kazakhstan during the "Wild West" days of the early 1990's, when anything that wasn't nailed down in that country was up for grabs.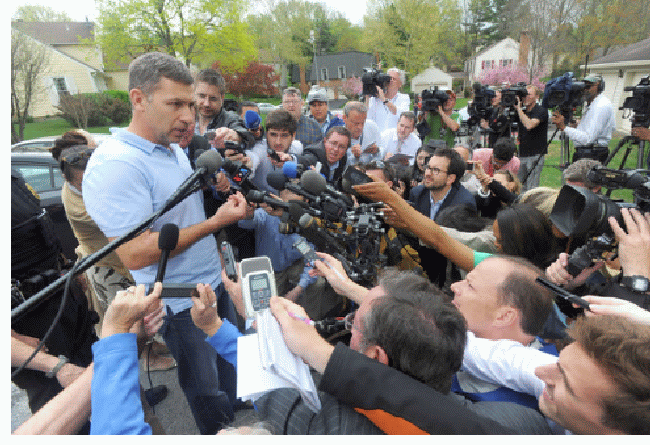 "Uncle Ruslan" Tsarni of Montgomery Village Md., whose name was the top trending topic worldwide on Twitter last Friday for his plain-spoken condemnation of his two nephews, has had a checkered business career, that began well before he graduated (as Ruslan Z Tsarnaev) from Duke Law School in 1998.
Tsarni, a well-connected oil executive,  is currently involved in an international criminal investigation into a Kazakh billionaire banker-turned-fugitive alleged to have absconded with $6 billion from Kazakhstan's BTA Bank.
The story begins with The London Sunday Times on May 8, 2011, which reported the sale of the personal home of England's Prince Andrew to billionaire Kazakh Oligarch Timur Kulibayev, who "controls that country's oil industry and happens to be married to the daughter of its autocratic President Nursultan Nazarbayev."
What does that have to do with "Uncle Ruslan?" Let's take a look.
"Can't tell your Oligarchs without a scorecard"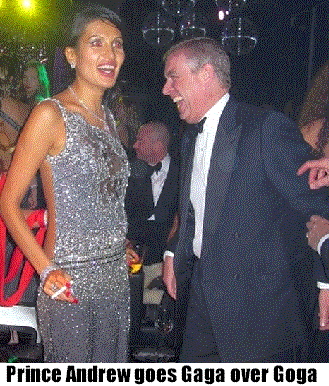 Headlined "Prince's home in 'laundered cash' inquiry," the story raised several red flags.
One was that the President-for-Life's son-in-law had paid $5 million over the asking price to purchase Prince Andrew's home, which raised eyebrows.
Red flags and eyebrows were raised still further, in these times of global near-depression, at the conspicuous oligarchic consumption (read: bad taste) exhibited when the Kazakh President-for-Life's daughter-for-life Goga Ashkenazi celebrated her 30th birthday with a lavish party before the scandal hit.
Goga, who made her appearance in a Swarovski crystal-encrusted, backless lace dress, attended by Prince-for-Life Andrew, was  entertained by fire-eaters, peacock-feathered stilt-walkers, and a girl swinging on a trapeze pouring vodka into ice sculptures shaped like naked male and female torsos.
There was even a woman suspended in a bird cage (true) who was there to direct guests to strategically-placed vomitoriums (alas, not true) strewn about the mansion grounds.
Enter "Uncle Ruslan"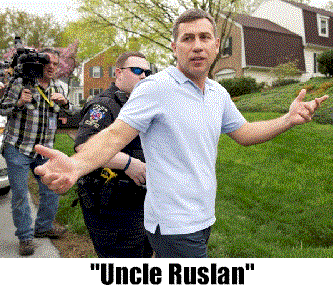 But the biggest red flag, the one pertinent to murder in Boston, was Oligarch Kukibayev's use of money laundered through a network of offshore companies to attempt to hide his purchase of Prince Andrew's crib, which emerged during a legal battle between another billionaire Kazakh oligarch, Mukhtar Ablyazov, and BTA Bank, from which Kazakhstan claims Ablyazov embezzled a very cool $6 billion dollars.
And this is where "Uncle Ruslan" Tsarni comes in.
Read More : http://www.madcowprod.com