March New Home Sales As Expected While Average Home Price Plunges To Nine Month Low
zerohedge.com
It is only logical that after last month's New Home Sales miss (exp. 420, printed 411K), which sent the market higher, today's tiniest of beats in New Home Sales, which printed at 417K, on expectations of 416K, would also send the market higher. The total months of supply indicated was 4.4, the same as February, and well above the 4.0 from January. Unnoticed in the release was that the January housing data was revised higher from 431K to 445K, meaning last month's drop would have been even more acute (-7.6% instead of -4.6%), but who cares about such things as data chronology now that the headline effect is long gone.  All that matters is that the trend is the mainstream media's friend, which can report new home sales have grown once more… if only back to levels last seen in April of 2010 when the same number was 422K. Was the data actually meaningful on a long-term basis? We will let readers decide on their own after one look at the chart below.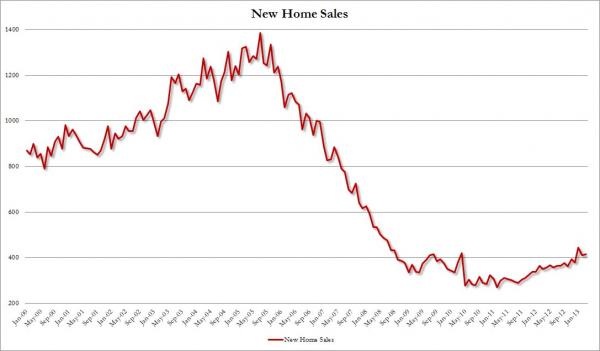 [5]
Digging between the numbers, we learn that the bulk of the jump was driven by New Home Sales in the south which rose from 180K to 215K seasonally annualized, while New Home Sales in the West tumbled from 139K to 110K.
Unadjusted, the actual number of houses sold in the Northeast and Midwest was a tine 4K each, with just 10K houses sold in the West, while Houses in the South soared to a multi-year high of 21K.
Looked at another way, on an actual basis, of the 40K homes sold in March, 13K were no started, 14K were under construction, and 13K were completed.
Finally, and this will not be mentioned anywhere, the average New Home price plunged from $310,000 to $279,900 -  the lowest since June of 2012. One can only imagine the step down in quality that was required to make up in volume what was "lost" in price.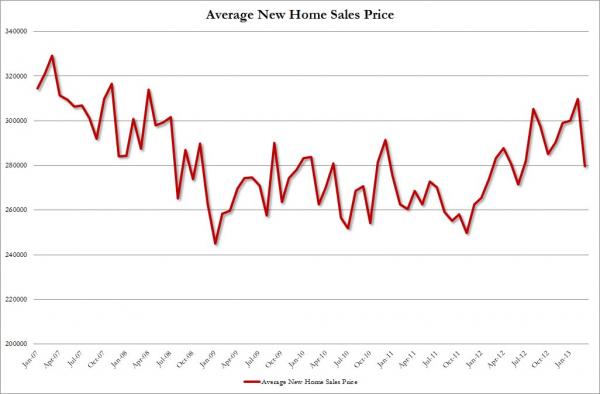 [6]
Elsewhere, the Richmond Fed and the MarkIt PMIs were absolute disasters, but if we bring attention to how badly they missed it will only send the joke that is stocks even more limit-er up.
Read More: zerohedge.com