GLOBAL LOOTING: The new EU bailin law was passed 8 days ago….did you notice?
theslog
Revealed: official details on how the EU will steal from us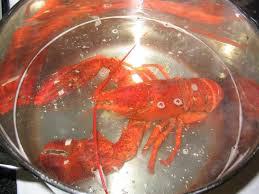 Are you a citizen with rights, or just a helpless crustacean?
Three beaming eurocrats – Barroso, Van Rompuy and Lithuanian Dalia Grybauskaite – emerged triumphant from a session two days ago, in which they mapped out the biggest bank heist in world history. This is to put flesh on the eurozone law hastily passed on August 1st (while EU citizens were on holiday) to deal with the inevitability event of a bank collapse. Under this draft proposal – which many expect to be applied to the entire EU – no depositor big or small will in future be able to feel safe with money deposited in a bank. The Slog now calls for those who represent us, across the entire cultural spectrum of European society – to do something.
In a barely read piece a month ago, the International Business Times reported on the rapidly drafted new EU law for "overhauling its policy on how banks receive bumper bailouts". Be aware: this is an EU move, not a eurozone move: it is already law (it passed on August 1st) and although for now it applies only to the eurozone, it is an EU law. Hardly anyone has commented on this, but the approach being taken matches word for word the 3-card trick George Osborne used six weeks ago when he said:
"In future, taxpayers will not be called upon to bail banks out. It will be down to the creditors and the owners".
The most remarkable example of double-speak to date, at the time I pointed out that creditors are taxpayers (they're account holders, simple as that) and so as the Establishments daren't ask us for higher taxes to bail out their mates in the banking system, they will take it via, if you like, Direct Debit. It is exactly the same principle of stealing the Troika wishes to apply to Greek private pension funds.
The initial piece at the IBT website noted that 'Eurozone leaders agreed upon the major policy shift and also confirmed that the new rules will help protect the taxpayer and move the burden of bailing out the banks onto shareholders and junior debt holders." Again, more bollocks: how will ripping your money out protect you? And note – junior debt holders…aka, you and I.
But yesterday from the German site Deutsche Wirtschafts Nachrichten (German Economic News) came a piece reporting that all bets are off as far as the 'guarantee of all funds under €100,000′ pledge is concerned. Under the current Lithuanian Presidency of Dalia Grybauskaite (seen left between a Trot and a poet), the proposal as drafted – and almost entirely ignored by the Western media – states as follows:
* Treatment will not be the same regardless of size of deposit, BUT small account holders will have to wait up to four weeks to get their money….'depending on how serious the insolvency is'. During that time, there will be a maximum withdrawal of €100-200 per day – again, perhaps less depending on the seriousness of the failure. (Based on the Cyprus experience, the haircut in the end will be at least 60%).
* The EU Parliament – allegedly – is demanding that deposits of €100,000+ euros should be confiscated within five days. (So much for MEPs offering us some kind of protection from the Sprouts).
Read More : hat4uk.wordpress.com